Baby boom or baby bust? To my surprise, I joined the former category during the 2020 COVID-19 pandemic when my husband and I discovered we were expecting our first child on a rainy fall Thursday. If 2020 wasn't already a blur with the sudden onslaught of a global pandemic that shuttered "life as we know it", we also squeezed in a small wedding – and now a baby? My planner mode activated into full gear over the following months as we prepared for another big life transition. Now, I reflect back on those months, having gained perspective and a new sense of clarity.
1st Trimester – Be open to spontaneity. Many of us learned to be professionally agile as we quickly pivoted to a virtual world during the pandemic, but we also needed to adapt personally. This includes resisting our desire to control outcomes or stick to a set plan. Like many of us didn't see the pandemic coming, I didn't plan this pregnancy, but here we were. After the initial shock wore off over the next 48 hours, I embraced the situation, focused on getting our ducks in a row and watching every baby movie I could stream (Look Who's Talking trilogy, yes, please!). I soon came to see this spontaneous event as a blessing – excited for the opportunity to become a mom and to gain a new perspective on life.
2nd Trimester – You can't (and shouldn't) get everything you want. Going through my first pregnancy during a pandemic brought its challenges – no traveling to be with my family for Thanksgiving or Christmas, no one to share my growing baby bump with except my husband and the four walls of our home and going to all my baby check-up appointments solo were tough. These trying moments surely brought frustration and some tears, but I learned to deal. Instead, we celebrated a quiet holiday at home, I texted lots of baby bump selfies to keep my family updated and virtual technology allowed for both a Zoom baby shower and for my husband to see and hear the baby's ultrasound via FaceTime. After all, we were lucky to be healthy and together amidst the larger hardships so many others faced.
3rd Trimester – Be present. Two weeks before my due date I opened my journal to reflect on all that we've been through over the last year and the final days before our daughter's arrival. I set an intention to be present, positive, at peace and patient as a parent. This moment of presence prompted me to write my future child a letter. She'll one day open this letter and learn about our journey, the extraordinary time she was born and how excited we were to meet her.
4th Trimester – Practice daily gratitude. Yes, there is a fourth trimester of pregnancy and it's called postpartum. There are many adjustments and worries when bringing a new baby home. But my days would become instantly better when I paused to take stock of what I was grateful for – a healthy new baby, a safe delivery, a new home for our family and a job that offers adequate paid parental leave to care for and bond with our newborn. These moments of gratitude brought peace and reinforced what mattered most. I continue to remind myself each day to be grateful for life's many blessings.
Becoming a mom was my pandemic silver lining. While both were unexpected, my pandemic pregnancy gave me a new perspective and appreciation in life. I was able to slow down, prioritize what mattered most and eventually, recharge. We have all experienced loss, uncertainty and fear during this trying time. But I hope we also have gained a new perspective and appreciation for life – and found our silver lining.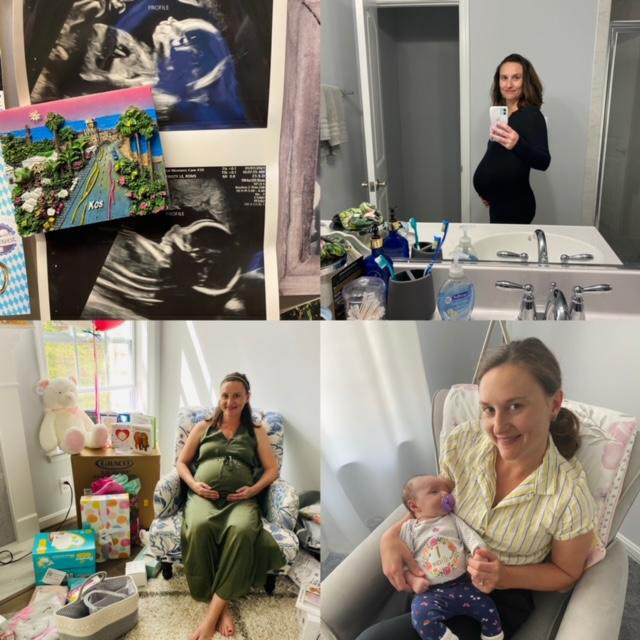 This article was written by Jamie Bell, working mom, wife & Bell sister
Looking to hire a babysitter or nanny? Bell Family Company provides fully vetted on-demand babysitting, including full and part time nannies, baby nurses, temporary care, help with virtual learning, and more! Learn why BFC is the best childcare agency, with childcare providers available across the U.S. (on-demand service available in the tri-state area). Contact us today to hire!