In today's day and age, there is no one clear path when it comes to childcare. Parents have had to be flexible in completely new ways, and every parenting situation is different based off of their children's ages, work schedule and area they live in. We talked with three different moms in three different regions across the U.S. to see what their current childcare plan is. Here is what they said.
Lindsay, southern mom with 3 children (ages 6 m/o, 4 & 5)
Work scene: Full or part time depending on the week. I work from home in my home office downstairs (adult zone) and the upstairs is a full blown kid zone. I keep my computer open throughout the day and have set 'office hours' four days per week; I ad hoc work as needed. I try to get out of the house and work in a coffee shop once a week, but do most of my work at home.
Childcare scene: I have reoccurring sitters four days per week (hours vary each day depending on my schedule) plus at least one date night every two weeks. Babysitters and kids stay upstairs so I can try to separate work and family, but that doesn't always happen. My two oldest are in school full time M-F and the baby is home. The biggest challenge is sickness, and trying to care for my babies and my business at the same time. Sometimes I have to surrender and reschedule all my work for the next day. Balance is always a work in progress.
Katie, midwest mom with 3 children (ages 2 , 3 & 5)
Work scene: Work from home full time. I didn't have one week of work in December without a kid home and me working at the same time.
Childcare scene: My oldest is in kindergarten in person full time, while the other two mix daycare and a part time nanny. I watch them at home when sick or needing to quarantine, which serves up the most challenging days.
Jamie, east coast mom with 1 child (age 8 m/o)
Work scene: I went back to my full time job in late September (after four months of paid family leave). I'm typically in the office two days a week and WFH the other days. I work as a Director for a large biopharmaceutical company and have thankfully been able to do a hybrid schedule, which has been great for me as a new working mom (hopefully that flexibility stays)!
Childcare scene: My husband WFH part time and is the main caretaker of our daughter during the work week. I try to cover a feeding, diaper change or squeeze in a stroller walk in between meetings when I WFH. Every week is a busy frenzy of multi-tasking. We're currently looking to hire a consistent part time nanny to help balance our work and parenting duties.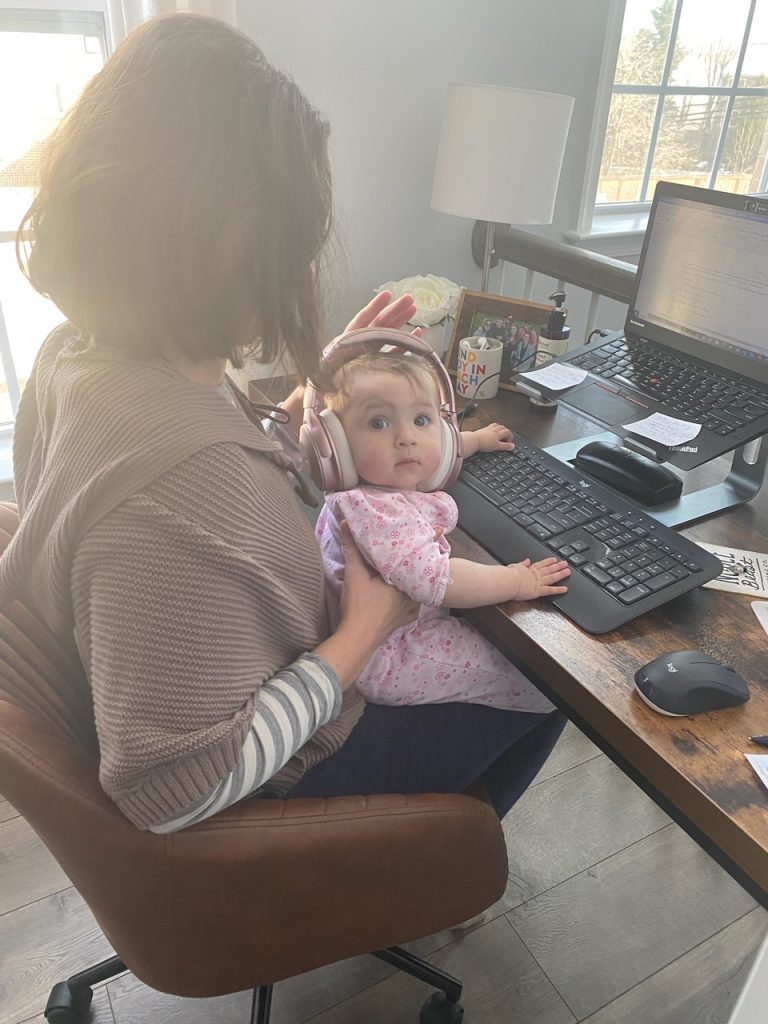 Looking to hire a babysitter or nanny? Bell Family Company provides fully vetted & FULLY VACCINATED on-demand babysitting, including full and part time nannies, baby nurses, temporary care, help with virtual learning, and more! Learn why BFC is the best childcare agency, with childcare providers available across the U.S. (on-demand service available in the tri-state area). Contact us today to hire!